Introduction
A media kit is an informational packet by a business to introduce itself to the media. These Kit work like a tool that can help promote a new product or service, present the company in the light it would like to be portrayed, and save time by reducing the number of times employees are asked the same questions.
Digital papers called "influencer media kits" provide information about an influencer and their services to prospective customers. You can guarantee that influencer kits are part of the answer to the question, "how do YouTubers generate money?"
Current and potential influencers who want to collaborate with businesses through sponsorship arrangements may find influencer media kits very helpful. Although there are several opportunities to monetize one's YouTube channel, sponsored videos are the most prevalent.
YouTube influencers may be paid to make promotional videos for businesses using the YouTube Partner Program. There are several methods for making sponsored films, but the client will often go at your media kit before you discuss the specifics of your creative process with them.
The components that are included in the influencers-made kit are as follows:
BRANDED
Beautiful DesignDesign An introduction
Short Bio Testimonials
Reviews From Previous Client's Social Media Statistics
Audience Demographics collaboration options
Pricing information
You'll need a media kit to show what you can offer businesses, whether you're cold pitching them or they've already shown interest in your concept. Your media kit should serve as your "influencer CV" or "portfolio," and it might be the difference between obtaining a profitable collaboration and losing out.
In light of this, I've compiled a few pointers on how to perfect various sections of your media kit and make a stellar first impression.
Beautiful Design
The Design of your media kit must be complementary to the tone and feel of your company. People considering doing business with you will form snap conclusions about your persuasive abilities based on their first impressions. The dissonance between your YouTube channel's appearance and its content might give a false impression that your brand is disorganized. For example, if you're a YouTuber who mainly uploads how-to guides for woodworking projects, your media kit should have relevant images, a suitable color palette, and legible typefaces.
Likely, you're not a designer yourself, but that's okay. Canva, Envato Elements, and Etsy, to name a few, provide premade media kit layouts ideal for attracting influencers. Some businesses, such as Later, even offer their templates for free download.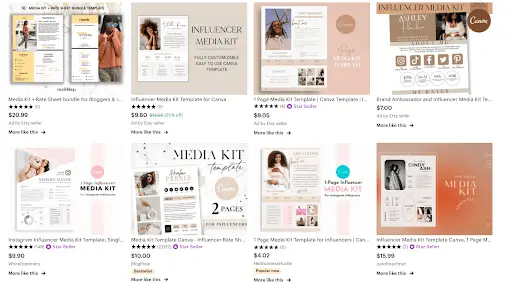 Your introduction to Influencers Media Kit
Page one of your Influencers Media kit should be your introduction. Those looking to hire a videographer should learn more about the person operating the camera from this brief profile. If you need ideas on introducing yourself, it might be helpful to look at how other influential people have done it. Use the format of these introductions as a starting point for your work.
Express yourself and your business with a brief yet engaging introduction. Media as a whole functions as a pitch deck, so avoid seeming too overconfident or having your bio appear like a business proposal.
Here is your chance to introduce yourself, describe your work, and explain your motivations to the reader. You should take your time and try out a few different versions of an introduction until you find the one that best encapsulates you and what you do on YouTube (and other applicable social media accounts).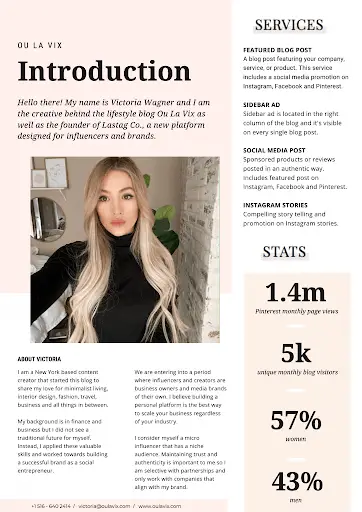 Testimonials and Review
When someone applies for a job, the hiring manager will often ask for references from prior employers or customers. The companies you collaborate with on YouTube will be the same way. Include customer feedback and praise in your media kit to demonstrate your ex. Depending on your background, you may want to include both quote-heavy testimonials and company logos to establish your credibility. This shows the various businesses you've worked with in the past and includes testimonials from your most prestigious customers.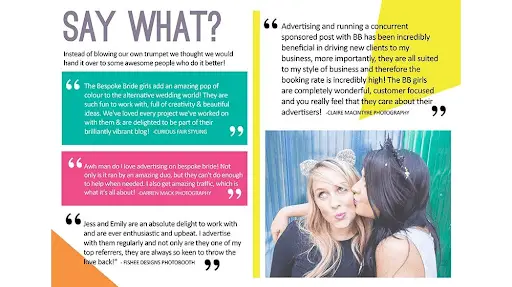 You can do a few things to tackle this area if you're new to influencer marketing and don't have testimonials, but you shouldn't skip it altogether. If you've never worked as an influencer for another firm before, here are some suggestions:
1)You may include logos and quotes from clients you've worked with in your social media and video content marketing job.
2) Think about offering some fast, pro bono services to neighborhood businesses in return for feedback.
3) Feature encouraging feedback and personal notes from subscribers and viewers.
It's essential to remember that each section of your media kit only needs one page. However, you may go up to two if you're pleased with the testimonies you've gathered.
Social Media Statistics
Compiling your social media metrics is an essential part of any press kit. While YouTube is where you should focus most of your efforts, it is helpful to detail your overall social media statistics to provide prospective customers with a complete picture of your online presence. Here you may provide whatever statistics you wish. Just a few examples of frequently used statistics are:
Number of subscribers ( For each Applicable platform)
Number of views ( for each application platform)
Engagement Rates ( For Each Applicable platform) Website views.
This part of your media kit is crucial even if you don't have a large following or a lot of views. Don't overstate your numbers; many tools make it simple for businesses to check your numbers.
It's important to note that marketers aren't always seeking influencers with massive audiences. Micro-influencers are the go-to choice for niche companies and brands with a narrow focus on the market since they have a more personal connection with their followers and a greater engagement rate.
Instead of focusing on your following current size as a micro-influencer just starting, emphasize your rapid expansion to win over new customers. How much progress you have made if you had launched your channel a year ago? Prospective customers will be impressed by your company's rapid expansion if you trace its progress over time.
Audience Demographics
A possible business associate will investigate your company in great detail to see whether your target audience is similar to their own. In this section, you'll advise other businesses on whether or not they should invest in reaching the channel's Audience.
You may tailor your media kit to your specific objectives by picking and choosing which demographics to include.
Location
Gender Education
Language
Income level Race
Material Status Occupation
Industry
It's not as hard as you would imagine compiling your demographic data. If you go to the YouTube Analytics dashboard, you can get a snapshot of the people who have seen your videos. Keep in mind that if YouTube doesn't have enough data to provide, you may not have access to detailed demographic information about your viewers.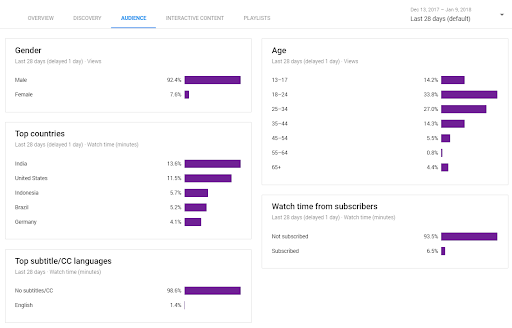 Your target audience may vary from platform to platform, but there must be some overlap (or else your brand won't come across as consistent). Audience demographics may be presented in a media kit.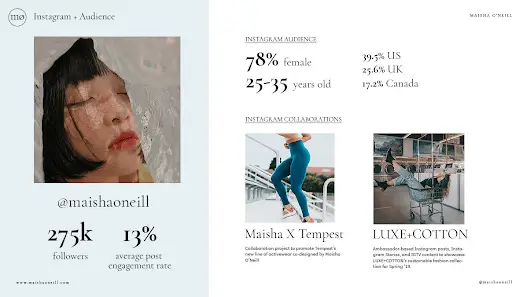 Collaboration Options
Next, briefly outline the various partnership choices available to prospective customers. Not many media kits include this page, but it's worth a half-page if you're having trouble coming up with media kit material or want to set yourself apart.
In your collaboration preferences, outline the many methods you'd be open to partnering with businesses. For example, a vlogger may include an interview with the company's CEO, do a how-to using the brand's products, review the products, or just mention the brand in an integrated way.
While it's not wise to box yourself into a specific cooperation style, highlighting your strengths will help you attract more of the right clients.
Pricing
Here is where the meat of your media kit is presented. Making prices public is a strategic move; although some influencers publish their rates publicly, others prefer that businesses get in touch with them to discuss rates.
Each strategy has its advantage depending on where you are in your quest to become a YouTube influencer. On the plus side, knowing your costs ahead of time will reduce the number of pitches you get from businesses that can't provide a suitable partnering agreement. As a second benefit, it may do away with the stressful process of haggling over prices and discounts.es and disadvantages.
However, if you're just starting as an influencer, you could be willing to negotiate prices as you gain experience and reputation. You may avoid turning away firms with lesser budgets and get a sense of how you value your work and what you want your charges to look like by leaving some room for negotiation at the outset.
Constantly Evolving
Because it reflects you as an influencer, your media kit should evolve with your success as a YouTuber. Your media kit will be updated when your channel's subscribers, views, and other counts grow. Your customer list will increase as you engage with larger companies and get more lucrative sponsorship deals.
Your media kit needs to reflect any rebranding of your ch. Finally, your media kit ought to be user-friendly. Promote your media kit by including a link to it on your YouTube page. You may provide a downloadable PDF or a fully functional website as your media kit. Angel.
Outlook
This article is written about the social media kit means what media kit are and how it works. Everything you need to know about the influencer's social media kit. TheseThese influencers kits are the informational packet put out by a business to introduce itself to the media.
These kit work like tools that can help us promote and launch a new company and product services. This article explains testimonials and reviews, social media marketing, and the content included in the influencer's media kit (Brand, Media Kit, Short bio testimonials, pricing information, Audience demographic), etc.