Table of Contents
Introduction
The only search engine larger than YouTube is Google itself. With this in mind, it's evident that advertising of all kinds would do well there. Here you can find valuable information for everyone interested in advertising on YouTube in 2022.
Since YouTube hosts various topics, your company may promote itself next to or inside videos that your target demographic often views. Reaching out to people actively considering your product or service may be profitable.
Various YouTube ad formats and strategies for using them will be covered in this article.
Regarding the history of the internet, YouTube is a seasoned veteran. YouTube's spectacular growth can be traced back to its humble beginnings as a video-sharing website in 2005 and its subsequent sale to Google for roughly $2 billion 18 months later. More than half of all Americans now visit the video-sharing website every day, and an astounding 98% use it at least once a month.
Light of such figures, However, many individuals continue to see YouTube ads as secondary in importance to those on Facebook and Google Search. That's peculiar, given that over five billion videos are viewed on YouTube daily. Even the most monopolistic business owner would be outraged.
Is that where you want your ad to appear? Following this simple process, you will be ready to begin advertising on YouTube.
This article is very informative for those who want to advertise on youtube.
What Is YouTube Advertising?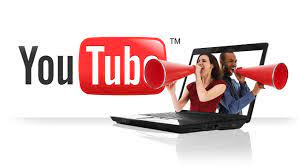 Commercials on YouTube come in different forms, many of which are similar to those you may see on television. Various forms of YouTube advertising may be created with Google Ads.
Advertisements on YouTube.com may be seen before, during, or after videos, and users can choose whether or not to skip them. Ads may take various forms, including pop-up windows that show next to the video or in the sidebar. Paid results, similar to those on Google, are also available.
How Much do YouTube Ads Cost?
The average cost-per-view is around two cents. However, the exact amount will depend on several variables. That's right, if you want to pay for 100 views, it'll cost you approximately two dollars, but if you're going to pay for 1,000 views, it'll cost you about twenty dollars.
Types of YouTube Ads
Multiple YouTube advertising formats are at your disposal. Some of these will be more suitable depending on what you are trying to promote and how you want your brand to be seen.
Some essential types of youtube ads are as follows:
Video Ads
Non-video ads
Bonus Ads
Premium Ads
Display Ads
The YouTube video's right-hand side, above the linked videos, is where display adverts will show. They're all pictures (including animated GIFs) and range in size. If a user clicks on the ad, they may be sent to a new page or be treated to some kind of audio/visual presentation.
Example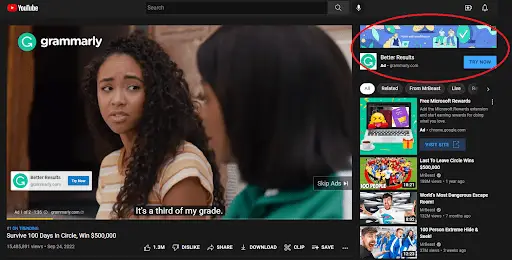 Specs
Animations are allowed but should not exceed 30 seconds in length and may be submitted in JPEG, PNG, or GIF format. If Google AdWords is any indication, HTML5 could be tolerated. A noticeable border against white and black backgrounds is required, and the file size should not exceed 150 KB. As a rule of thumb, 300 pixels wide by 250 pixels tall is ideal.
Sponsored cards
Sponsored cards are square or rectangular advertisements that appear in the middle of a video and are directly related to the content of the video. You may encourage people to click on your adverts faster if they are for videos closely relevant to what they are now watching. There will be a brief appearance card, and you can always access it through the advanced settings button in the upper right corner of the video player.
Example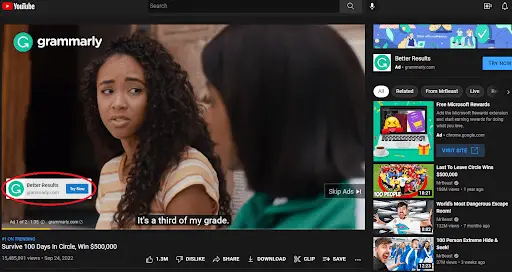 Specs
Cards with corporate sponsorships may be JPEG, PNG, or GIFs, but the animation is not permitted. If the file size is beyond 5 MB, it will not upload. These photos need to be cropped to a 1:1 ratio.
Skippable video ads
TrueView commercials, which may be skipped, are the most prevalent ad on YouTube. These commercials start the video but may be ignored by the viewer. Account managers on YouTube may utilize their Google Adverts account to get data for optimization reasons by placing TrueView ads.
Example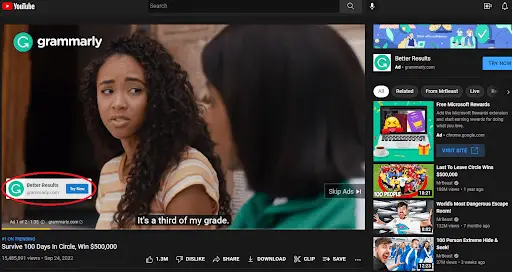 Specs
Ads that may be skipped must be between 12 seconds and six minutes long. Videos should be shared on YouTube with the option to embed turned on and should be either public or unlisted.
Non-skippable video ads
YouTube commercials that cannot be skipped may appear at the video's beginning, middle, or finish. They may make an appearance after the first 10 minutes of a video. A call to action (CTA) is crucial to the success of these advertisements.
Example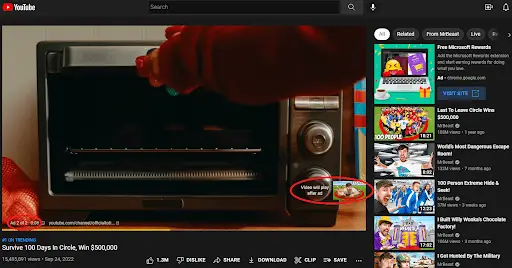 Specs
Commercials that can't be skipped must be no longer than 15 seconds, while 20 and 30 seconds are acceptable in rare situations. Videos should be shared on YouTube with the option to embed turned on and should be either public or unlisted.
Bumper ads
Unlike other YouTube advertisements, they cannot be skipped. It's essential to make the most of the little time you have to create exciting content that will benefit your advertising campaign in these short movies. With YouTube bumper advertising, you may promote your business without annoying your audience.
Example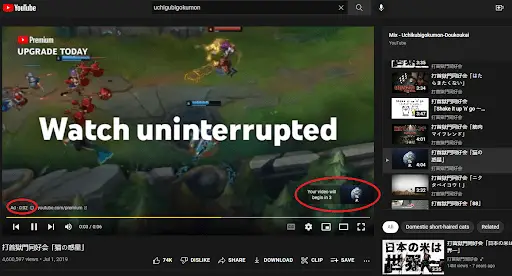 Specs
There is a one-gigabyte limit on bumper ad duration and a six-second minimum. The optimal resolution for a 16:9 or 4:3 aspect ratio is 640 pixels wide by 360 pixels high, although the most common answers are 480 pixels wide by 360 pixels tall.
Overlay Ads
Banner adverts display at the bottom of the currently playing video to advertise overlays. This is a perfect alternative for you if you don't want your YouTube advertising to be too invasive.
In the following paragraphs, we will discuss the novel, proven, and trustworthy techniques for promoting your items on YouTube and attracting ideal customers.
Example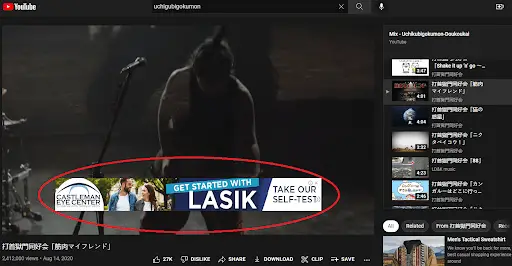 Specs
To make attractive banner advertising that runs at the bottom of the video, the recommended proportions for overlay ads are 480 by 70 pixels. Images may be JPEG, PNG, or GIF, but animations are not permitted. There should be no more than 150 KB in the file.
How to Advertise on YouTube?
Google AdWords is in charge of all the commercials you see on YouTube. You can have your YouTube video advertising running in 10 minutes because of the simple procedure.
To fine-tune your YouTube advertising strategy, go to "expert mode" and choose the "campaign type" that best suits your needs.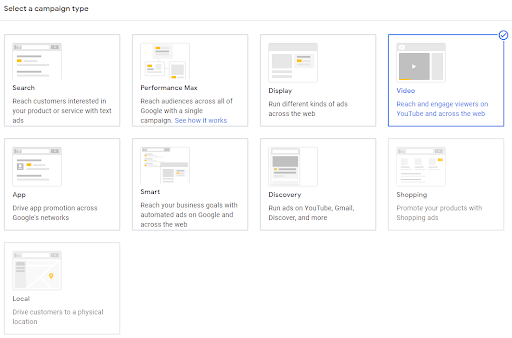 There is room for expansion with the use of campaign subtypes.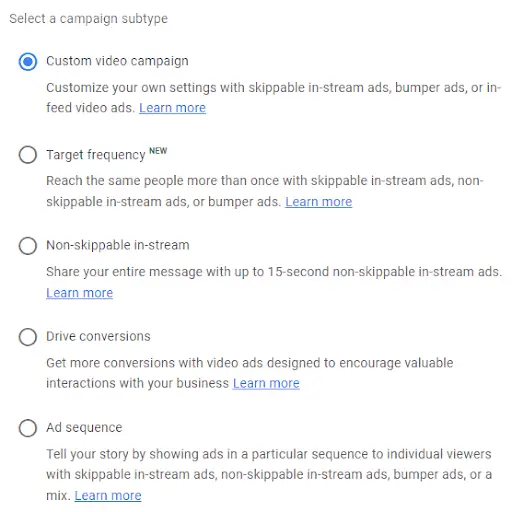 Follow the steps below to launch your video advertising campaign, and worry about the specifics afterward.
Keep in mind that you need to have at least one promotional video ready to go and a website URL to send them to. Doing keyword research to narrow down your prospective customer is also recommended.
1. Create a Google Ads account
The first steps are straightforward. Simply click the "Start now" button on the Google Ads homepage after signing in with an existing Google AdWords account or the Google account you want to use for your Google Ads campaign. When you click the button, you'll be directed to the account creation page, where you may start by giving your company a name.
You may always modify the name of your Google Company account if you're just starting started and don't yet have a formal business name. Please put a temporary name or anything similar to it for your future company (such as your YouTube username).
2. Create a strategic campaign
When you're ready to go on with making your campaign, just hit the Next button. Google Advertisements will guide you through the process of creating a video campaign type and ads strategy if you just follow the recommendations.
For instance, on the second page, you'll choose your advertising campaign's purpose. YouTube will likely be the most popular choice in this article's context, while the others are also acceptable.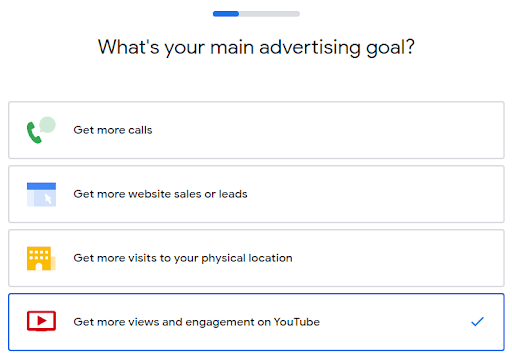 Consider the YouTube advertising approach you have in mind while making choices. The subsequent pages may seem different depending on your decision to go with another type of video campaign than the YouTube variety.
3. Define your campaign parameters
Third, set up the criteria for your campaign.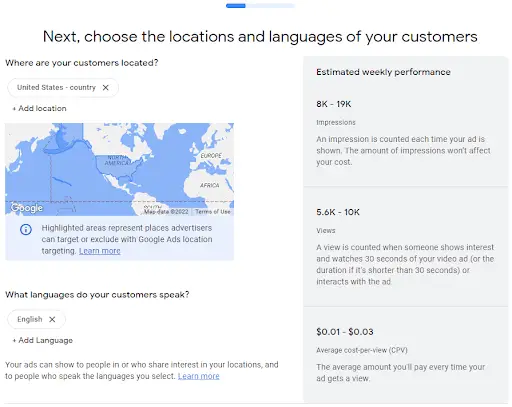 You'll get updated estimates for your campaign's reach, impact, and median cost as you make choices.
4. Define your target audience
The success of your YouTube marketing strategy relies heavily on this area. Since you are effectively paying per impression, your desired customer must see your ad. Otherwise, you risk having your YouTube advertisement shown to individuals less likely to be interested in your business, wasting a part of your marketing spending.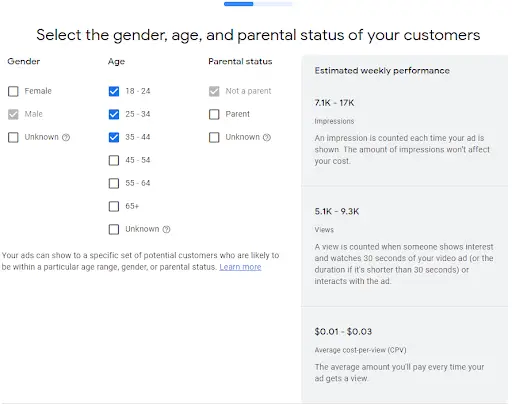 Consider who is most likely to see your ad and who among those people is expected to become a paying client who will increase your return on investment.
If, for instance, 80 percent of your audience is male and 20 percent female, you should cater to the former. The statistics suggest that men are four times more interested in your business than women, so it may be tempting to target both (80 vs. 20).
In other words, the return on investment for male viewers is four times higher than for female viewers for every dollar spent on male viewers. Never lose sight of your ideal client demographic if you want to get the most out of your advertising dollars.
5. Do keyword research
Targeting the right audience with YouTube ads and other forms of company marketing will be easier if you have a firm grasp of brand-specific keywords, like SEO. Use Google's Ads Keyword Planner to help discover the most effective keyword phrases for your specific market.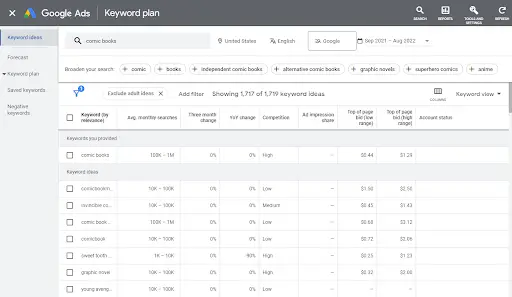 This is a must-have tool in search engine optimization (SEO), marketing, and even discovering new potential markets. Type in some possible keywords for your specific specialty, and you'll have instant access to a wealth of relevant data.
Google Ads requires you to provide brand and audience interests as part of the campaign creation process. Put your time and effort into researching appropriate keywords to utilize here.
You may increase the number of people who convert after seeing your ad by advertising on YouTube using high-traffic keywords associated with your business.
6. Set your budget
Budgeting for your YouTube marketing campaign comes after you've settled on the campaign's strategic components. Choosing a maximum amount to spend each day is all that is required. In other words, if you want more eyes on your videos on YouTube, you need to spend more money on adverts. Also, this will be the best strategy to advertise on youtube.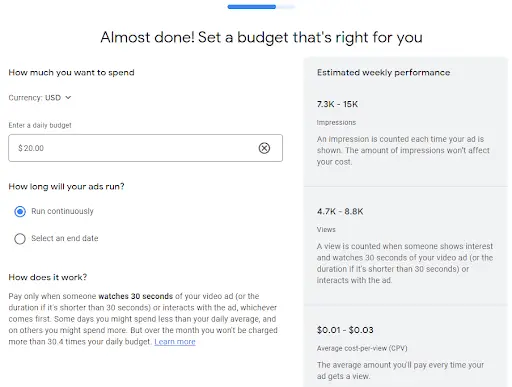 Sticking to the daily budget can make your marketing expenses manageable, but ensure you don't go beyond. Don't be afraid to start with a modest amount and ramp up your marketing budget once you begin collecting visitors with successful video advertising. This can always be modified or stopped with a fixed time limit.
Keep in mind that each impression costs around the same. Your return on investment for those views is more crucial. Key to increasing conversion rates is making advertisements and ad placement more efficient.
7. Set your campaign to live
After deciding how much you want to spend, you can finally submit your Google Ads campaign by entering your billing information.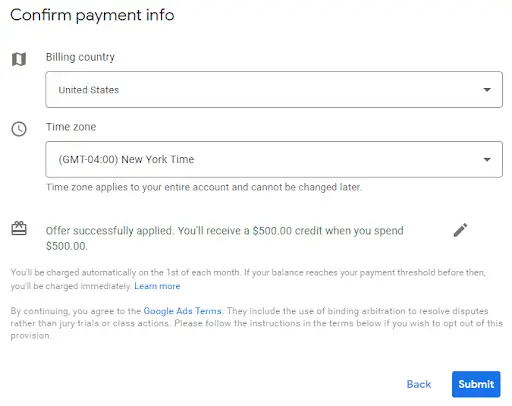 This will get the ball rolling on your publicity campaign and bring in those all-important clicks and views! Taking care of your Google Ads campaigns is the next stage. It is possible to test various ad formats and see how they perform with the help of YouTube's analytics tools. You may improve your ad content and daily budget to see a rise in conversion rates.
Quick tips for Running a Successful Ad Campaign
You may promote your items by advertise on YouTube without creating a dedicated advertising channel or videos. To reach the 40% of consumers who claim they buy products they see on YouTube, you must execute a video marketing campaign with established YouTubers.
With so many avenues for product placement in a video, YouTube advertising might initially seem overwhelming. You may begin with the TrueView advertisements that play before, during, and after a video and on the search results page. Users may skip advertisements on YouTube if they so want.
There are also pre-roll ads, which can be up to 20 seconds long (and aren't skippable). Or you can consider the bumper ads. The success of your YouTube ad campaigns depends on their placement inside relevant videos. Ad formats, including display advertisements, overlay ads, and sponsored cards, may be practical when strategically placed.
Having Trouble With Advertising? Informativespace Can Help With Influencer Marketing!
With the ever-increasing popularity of video content, YouTube has become a fantastic medium for advertising. SEMRush estimates that in 2019, YouTube will account for around 21% of all worldwide streaming traffic. Moreover, 48% of individuals think that YouTube will make the most significant contribution to enhancing the efficiency of PR communications in the next five years.
You'll need a solid marketing plan to capitalize on YouTube. Think about the promotional strategies you'd want to use. If you follow the advice in this piece, you should be able to develop novel approaches to marketing to your specific target demographic.
Keep tabs on metrics like interaction, clicks, and shares to determine the efficacy of various promotional efforts. This will help you zero in on the tactics that have the most excellent chance of success down the road.
If you want to maximize the effectiveness of your YouTube advertising spend, let Informativespace assist you in doing so. As an added service, we can connect you with popular YouTubers in your industry who might help you get your message through to your target demographic.
FAQs
The most frequently asked advertising-related questions for YouTube have their solutions here.
How much does Google advertising cost monthly?
When you use Google Ads to promote your business, you get to choose the parameters and the budget. You may restrict your advertising expenditures to a certain amount. The monthly budget will change depending on the number of advertisements being run, their kind, and the locations in which they are shown.
How can I advertise on YouTube for free?
YouTube commercials that cost money are separated into their section and are not free to see. Using your own YouTube videos to attract viewers isn't the same as traditional advertising in and around other videos. Creating films with high SEO that contain marketing information and lead viewers to your channel or website is an excellent strategy for using YouTube for free promotion.
How much does a 30-second video cost?
Ads on YouTube are sold on a per-impression basis rather than a per-video basis. The production value of a video with 100 views in 30 seconds is nearly equal to that of a video with 200 pictures in the same time frame. When advertising on YouTube, you are not paying for the actual commercial but rather for every time one of your advertisements is seen. Regardless of how many sponsored video advertisements you have or how lengthy they are, the cost per view remains the same at two cents.
Other Strategies for Increasing Brand Visibility with YouTube
Although paid advertising through Google AdWords effectively reaches YouTube's massive user base, it's not the only option for using this social media behemoth. We offer additional possibilities if you're looking for answers to questions such as "How can I advertise on YouTube?" or "How can I promote on youtube for free?"
Advertising on YouTube may be done in several ways, including producing branded content and collaborations with well-known YouTubers.
Teach Your Audience Something
Most YouTube viewers are in search of either fun or facts. One of the most excellent methods to accomplish both is to watch instructional videos.
The promotion of educational resources is profitable. Making "How To" videos or other instructional material may benefit your business in many ways. Long-tail keyword rankings and brand authority may be improved with this form of video content.
You also provide product exposure without resorting to overt advertising. Instead, it would help if you focused on promoting your brand by disseminating useful information.
For instance, the HubSpot Hacks channel on YouTube has "How To" lessons for issues like improving the readability of your blog articles and exporting contacts from your CRM software. The films do double duty by showing off the benefits of the creator's wares while also educating the audience (HubSpot software).
If you want to know how to accomplish anything, YouTube is the place to go. Creating a valuable "How To" video that also promotes your brand or goods may be a cost-effective substitute for traditional advertising if you can reach your target demographic
Partner with Influencers in Your Niche
Partnering with video influencers is an excellent approach to spreading product recommendations. It's common practice for YouTube creators to work with brands to monetize their channels. Potential clients probably won't be actively seeking out commercials on YouTube. People are looking for materials that will keep them entertained.
By paying an influencer to include your product in their video, you may capitalize on their following by using their individuality and expertise as a marketer. Ryan George, a YouTube comedian with over 1.5 million followers, is a good example.
After his funny "First man to ever…" YouTube videos, Ryan includes a fun segment in which he appears as an "ad-astronaut" out in the "ad space" to inform you about the content's sponsor using visual effects of outer space. Customers are less likely to want to skip or ignore the advertising because of the clever manner Ryan incorporates it into his content.
Influencer marketing is one of the most effective forms of advertising on the video-sharing platform. Just one sponsored post may expose your business to a massive audience, generating a substantial return on investment in a short period. Paid advertisements are great for consistent daily traffic, but collaborating with influential people may boost your business tremendously.
Produce Unboxing Videos
Involving others in the joy of unveiling a brand-new item is something many people look forward to doing. An excellent technique to get consumers enthusiastic about a new product or an item in your catalog is with the proper review or unboxing video from the right influencer. Affiliates and advocates may also benefit significantly from this to generate interest in branded goods.
To write a fantastic review, you must address all your audience's concerns. You may find out what people are interested in by conducting preliminary surveys or looking at what they are actively searching for on social media.
There should also be a lot of how-to knowledge in a good unpacking. Example: Jaleesa Moses reviews Mac Cosmetics' Next to Nothing face makeup in this video. This review is chock full of Jaleesa's unique flair as she demonstrates the product's functionality, texture, and ease of application.
Create Product Comparison Videos
Customers who shop online will find many options, each claiming to be the finest. Save these consumers time by creating comparison films outlining the benefits and drawbacks of each choice.
One of the most prominent YouTube channels, UsefulCharts, examined five different DNA Testing Kit providers and their respective DNA findings. There would have been much more interest in your DNA testing kit if it had been included in this clip.
UsefulCharts, one of the most popular YouTube channels, compared five DNA Testing Kit suppliers and their DNA results. If your DNA testing kit had been included in this video, you would have sold many more.
Conduct Live Q&A Sessions
Streaming videos in real-time is a relatively new addition to platforms like YouTube and numerous others. Customers are increasingly turning to videos to get a genuine understanding of companies and goods as the use of video grows ubiquitous.
Live video streaming has recently been available on sites like YouTube and many others. As video becomes more commonplace, consumers increasingly turn to it to get an accurate picture of brands and products.
By enabling viewers to pose questions in real-time during a live broadcast, cosmetics company Benefit provides a great example of the power of this medium.
Outlook
This helpful resource should have provided valuable pointers for YouTube advertising in 2022. This article is very informative for those who want to advertise on youtube. Various YouTube ad formats and strategies for using them will be covered in this article. The only search engine larger than YouTube is Google itself. With this in mind, it's evident that advertising of all kinds would do well there. Here you can find valuable information for everyone interested in advertising on YouTube in 2022. This article is very informative because it deeply explains all ads like skippable ads, non-skippable ads, display ads, bumper ads, etc. Moreover, they deeply explain how to create a google ad, the type of google ads, and so on.