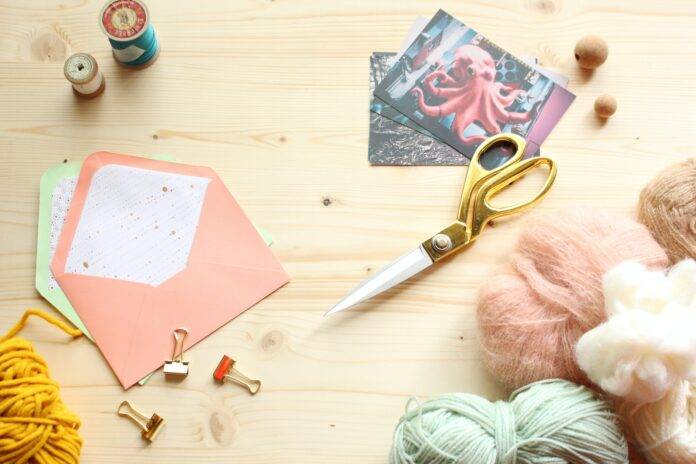 How to create multiple Etsy shops? Etsy was first introduced in 2005; it has grown to become a thriving online marketplace that values its users' communities, individuality, and originality. It's a great place to look for and purchase one-of-a-kind arts and crafts you won't find in any other store.
There's truth to the adage "don't put all your eggs in one basket"; most businesses provide a variety of goods and services. However, it's possible that a store offering many product lines is not the ideal choice for customers. Consequently, many retailers choose to sell their wares via specialized e-commerce platforms catering to specific demographics of consumers.
In this post, I'll explain why running more than one Etsy store is a good idea, and I'll go through some logistics.
How to Create Multiple Etsy Shops? How Many Shops One May Have?
It is possible to have many Etsy stores. To start a second store under the given circumstances, follow the instructions below:
Each Etsy storefront requires its unique Etsy account, so be sure to use a different email address each time you start a shop.
Verify that all of your stores are following Etsy's Seller Guidelines.
Benefits of Creating Multiple Etsy Shops
If you find yourself in any of the following scenarios, starting several Etsy stores is the best way to improve sales:
You're offering a wide variety of things for sale. As I've already indicated, however, if your business is an assortment of stuff from various genres, customers will be turned off and won't want to return. For instance, someone searching for holiday attire may not care much about rustic furnishings.
You're peddling items with specific user requirements. Things in Shop A are only for your use, whereas those in Shop B may be sold to the general public. Keep them at two different stores to prevent customers from becoming confused if they haven't read the fine print.
Products may be purchased in digital and physical formats. Customers may mistake digital goods for a real one if they don't read the listing description carefully. If you sell them in different places, you won't have to field as many inquiries from concerned clients about their digital download status after making a purchase. Since this is the situation, I think it would be best if you opened two different shops on Etsy.
If you currently have an online shop and want to grow your company with Etsy, you need a solid multichannel selling plan.
Create Multiple Etsy Shops: Things to Consider
It would help if you kept a few things in mind before opening a second store on Etsy.
You must use a separate email address to create a second Etsy shop. Do not use the same email address as your original purchase.
It would help if you used different browsers for each Etsy store. You can't use the same browser if you want to shop at two other online businesses.
Etsy prohibits identical storefronts. Etsy may suspend or close your store if we deem it substantially similar to another existing shop.
Having many stores sell the same inventory is illegal. Items may not be offered for sale in more than one store at a time on Etsy.
Make sure that your public Etsy profile includes the names of both stores.
You should include all of your other stores in your profile so that duplicates may be avoided. For example, you may say, "My other store is…"
How to Create Multiple Etsy Shops? Complete Guide
Setting up your first Etsy shop is a prerequisite to opening more stores. How to do it:
Create an account or log in if you don't already have one before you start shopping on Etsy.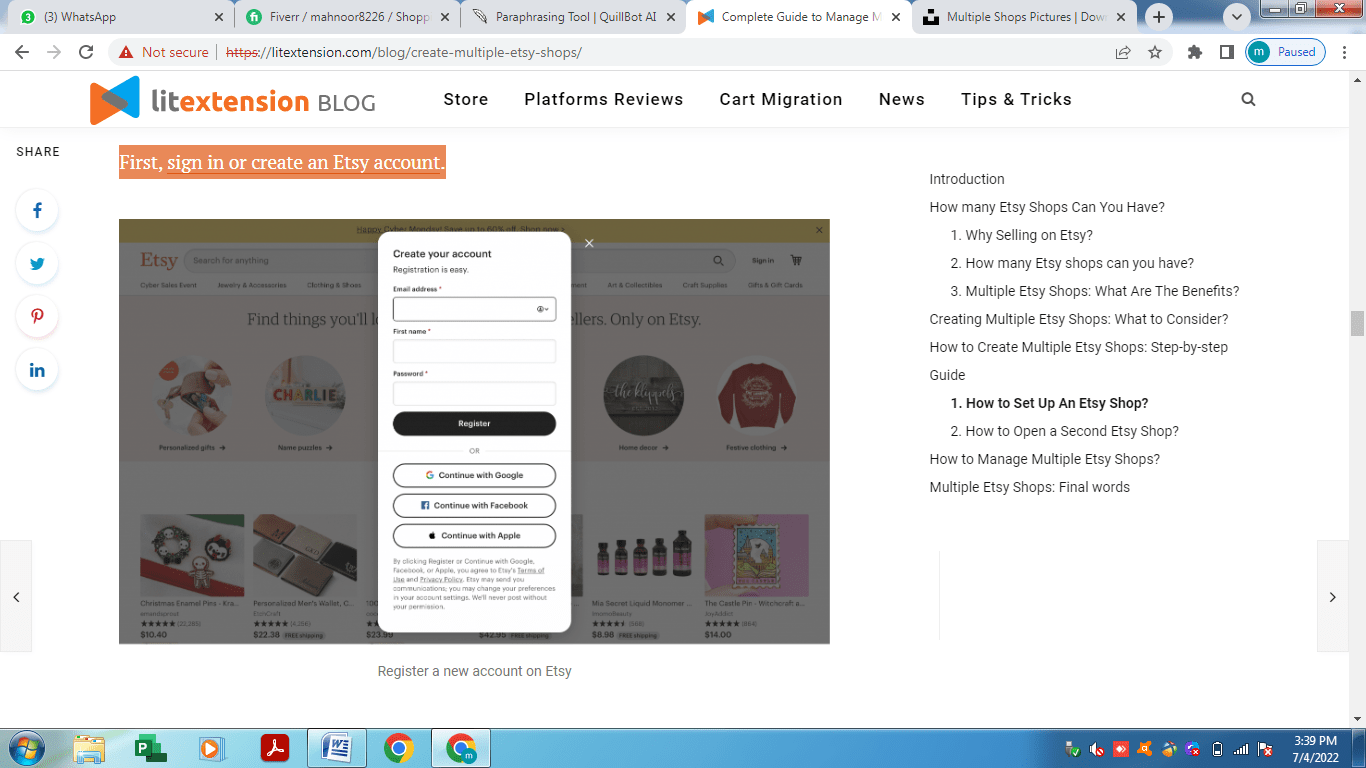 If you want to build an Etsy store, you may get started by:
Step 1: Select "Sell on Etsy" from your profile's "More" option.
To begin, click, sell on Etsy.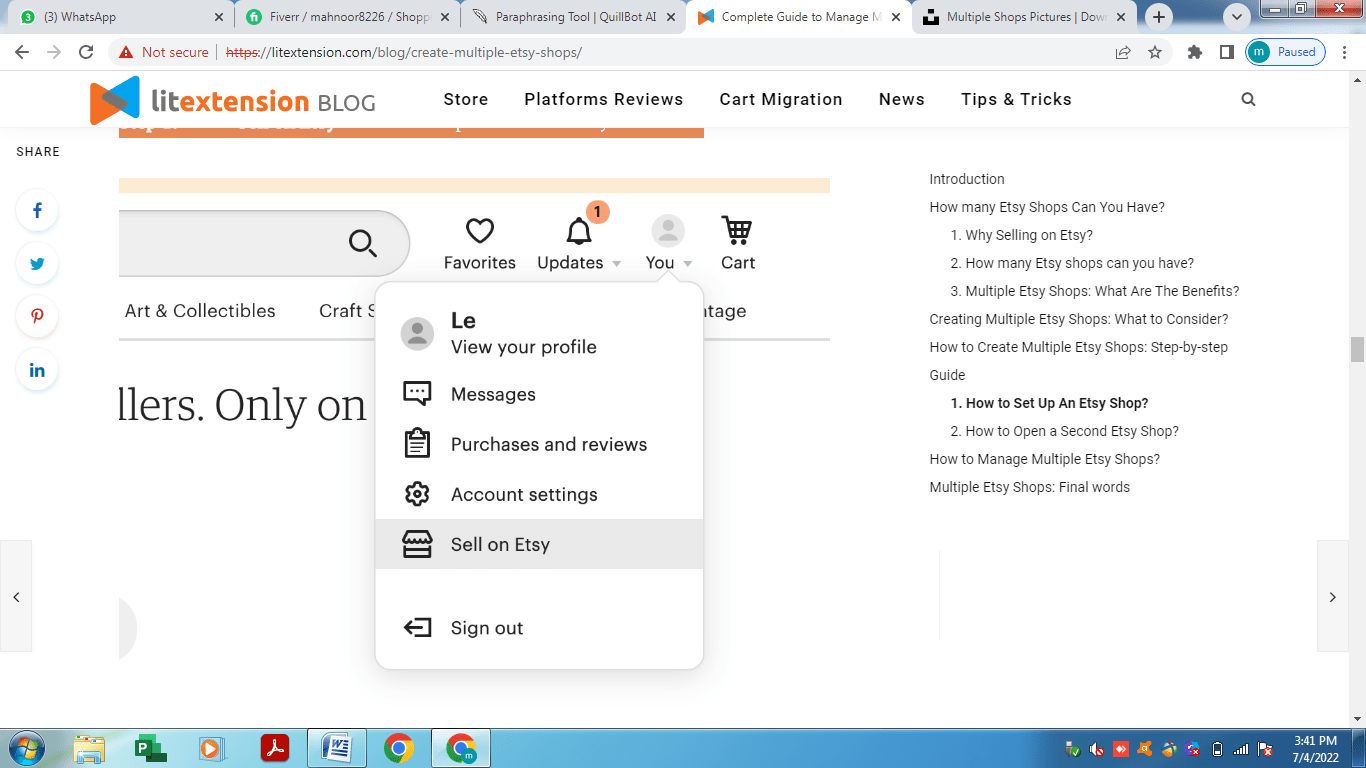 Step 2: Navigate "Open your Etsy shop."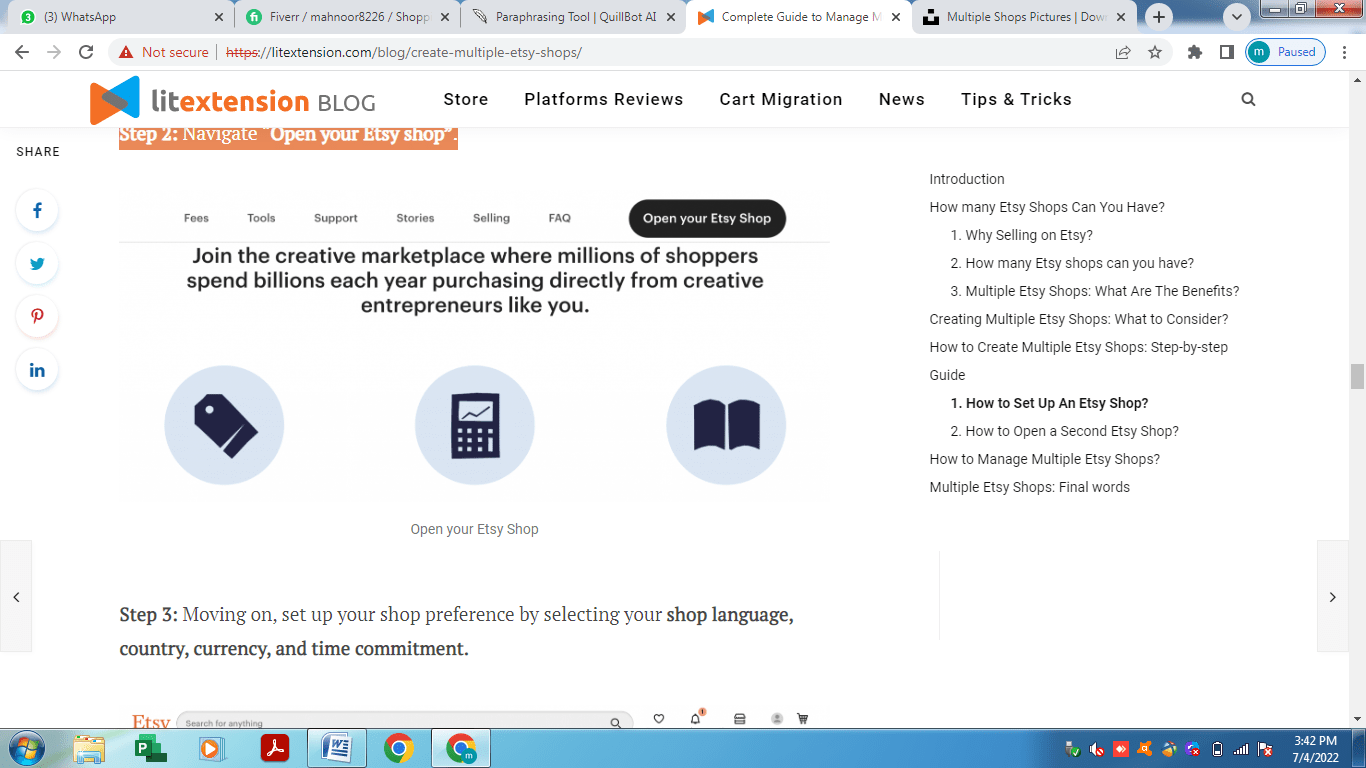 Step 3: Set your shop preference by selecting your shop language, country, currency, and time commitment.
Step 4: Select a name for your store next. Names are memorable first impressions, so choosing one that conveys your store's vibe and main selling points is essential. The name of your store must meet the following criteria: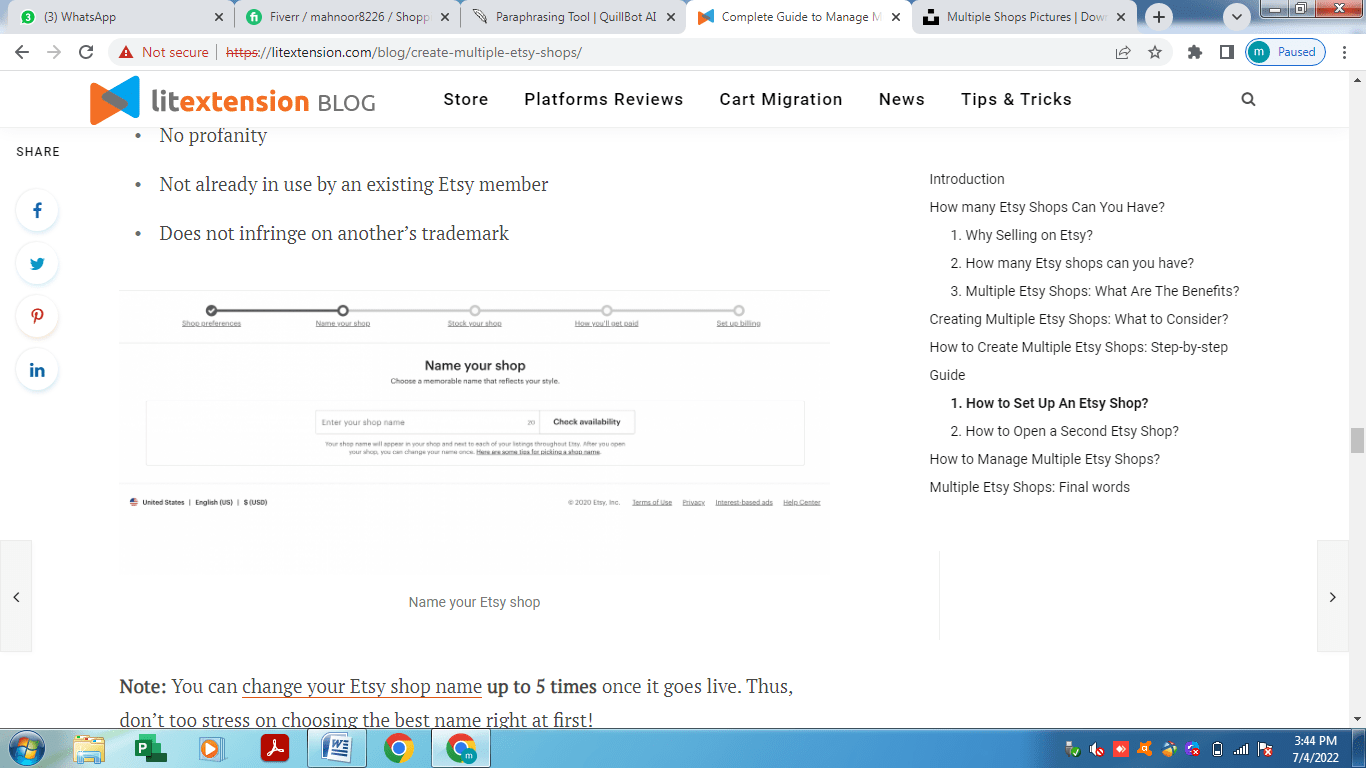 Step 5: Fill up your shop by adding all of your product listings.
Step 6: The next step is determining the method through which you will be compensated. If you are located in a supported nation, you may pay using Etsy. Etsy Payments allows customers to pay in various ways, all of which can be seen in one place: your Etsy Payments dashboard. If you are in a location where Etsy Payments is unavailable, you may use your own PayPal account instead.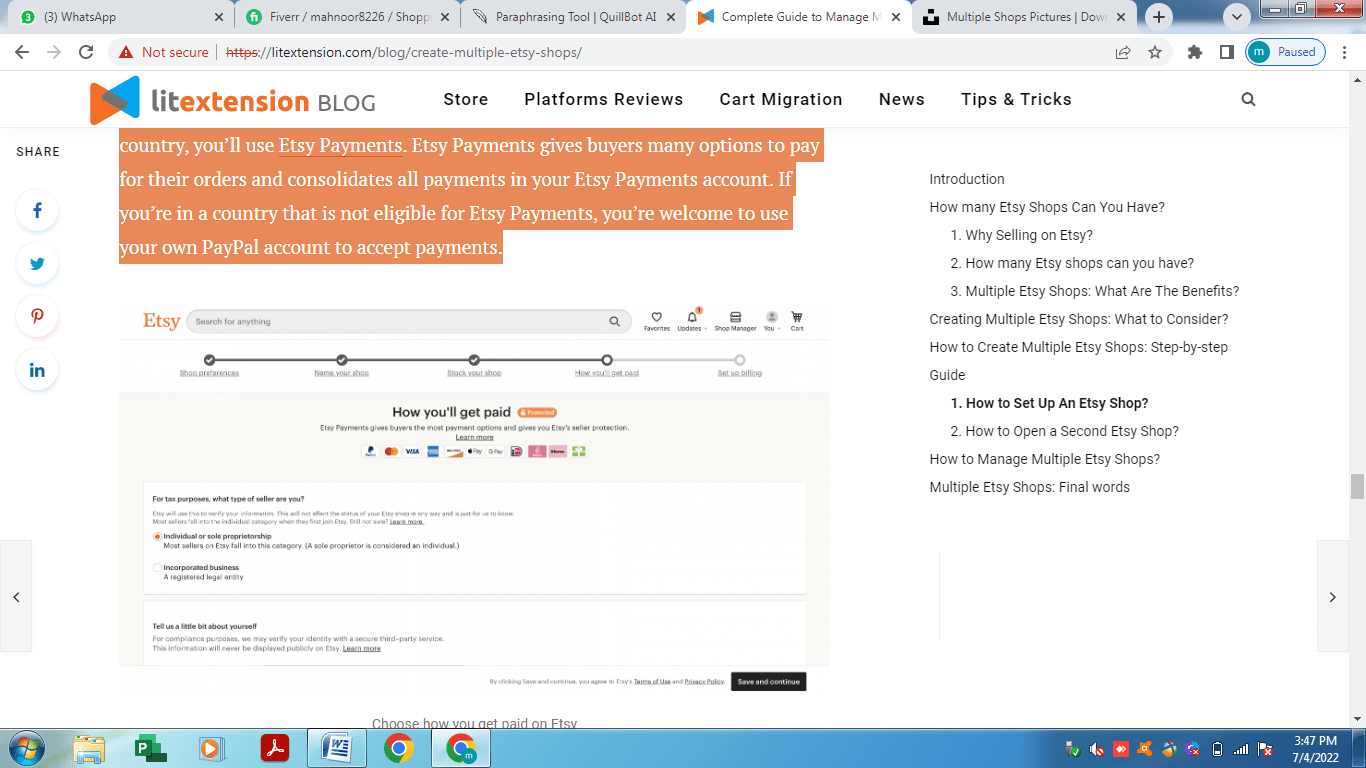 Step 7: You're nearly there; the next step is establishing billing. You'll need to input a credit or debit card to access the storefront in certain countries. Ideally, the card would be a
Visa
Mastercard
American Express
Discover
The Blue Card (France)
An authorization fee may appear to ensure the card's validity on file. The charge will be removed from your account once your credit card information has been validated.
You may link a prepaid card to your account if you already have a credit or debit card. You can't use a non-reloadable prepaid card as your only or main payment method, but you may use it to make one-time payments like bill payments.
When you're done with each part, choose "Open Your Shop." After the store's debut, make any adjustments you see fit.
Let's get straight into opening more Etsy stores now that you know the basics of running a single business.
How to Create Second Etsy Shops?
You must sign up for the site using a different email address to create a second Etsy store.
From the Etsy site, choose "Your Account," or from Shop Manager, select your shop's name.
Log out
Log in
Register
Input a new email address not already used by your first Etsy business, with your name and a password of your choosing. Click the "Register" box.
You may start selling on Etsy by selecting that option.
Click the button labeled "Set up shop" to begin.
Here's how to set up your shop.
Review Etsy's policies and follow them to ensure that your store and products are shown in the best light possible.
Outlook
As we've seen, there are benefits and drawbacks to running many Etsy shops. We strongly advise you to weigh the drawbacks of starting a second Etsy shop before making a final decision.
Alternatively, you may use WooCommerce multisite, which provides additional protections. In the accompanying post, we have outlined the steps necessary to get it up and to run. View this!
Before adopting WooCommerce multisite, you must first convert your data from Etsy to WooCommerce.