An important and forward-looking question nowadays is how will Metaverse affect the future as the perception of the metaverse takes shape?
The world was astonished when Facebook changed its name to Meta. Nonetheless, Mark Zuckerberg's keynote clearly shows that Facebook is spreading beyond our grasp.
Meta was born as a result of this paradigm shift that goes far beyond what Facebook represents. The metaverse has the potential to help us create a world where we can all be our most authentic selves. As an everyday part of our human experience, Zuckerberg showed us what the world could look like with virtual and augmented reality.
Many aspects of the metaverse merit investigation, but the following are some predictions about how will metaverse affect the future. How will it alter our working methods and propel social change toward a more open and tolerant society?
Potential Impacts of the Metaverse in the Real World
The Metaverse has the potential to overtake the real world in terms of changes if technological advancements are significant enough. The Metaverse may eventually displace parts of the real world, but this is still decades or even centuries away.
We're going to find new ways to express ourselves.
In these environments, we can expect to see a rise in radical self-expression as people realize how to modify the digital space around them using advanced tools for creators, by creators. For those who don't have the time to create their universe, there are a plethora of other peoples' worlds to explore and even relevant. If you want to get more information about metaverse then click on the following link to get more information:
Personalized Avatars
Avatars represent the virtual representations of individuals in the Metaverse. We'll be able to experiment with new ways of expressing ourselves through these representations that we couldn't have done before. Imagine being able to experiment with different "skins" in the metaverse and how it could help you gain more confidence.
The ultimate goal is to be able to apply what they learn here to their everyday lives. Having more self-assurance in the real world is an easy consequence of having more self-assurance in the metaverse with your personalized avatar. People will be able to bring their whole selves to work because of this newfound opportunity to express themselves fully.
Work will be More like a Game
If you could teleport to Seoul, to meet with your boss, your favorite business spot across the world to meet with your manager, and a fantasy land to meet with a trading partner, what type of day would it be? We'll be able to spice up our conferences by teleporting to alternate realities, both real and imaginary.
We'll see things we have never seen before, all while fully immersed in the surrounding landscape. In addition to the location of the meeting, we'll take a look at the surrounding area. As a result, we will be able to feel and act as if we are actually in the place. We can all benefit from the increased creative potential that will be made available to us as a result of this development.
Collaborative Work Environment
In the metaverse, the concept of workplaces will take on entirely new connotations. We will be able to create any kind of environment we want. Because we can simply shift between environments, there won't be any separation between them. We could one day create an environment where every company has the opportunity to provide an excellent work environment for its employees regardless of size. This will have a significant impact on the working environment and the satisfaction of employees.
Let People into the World of Fantasy
The power to consider inviting someone into your imagination is a powerful thing to have. Coworkers will be invited into your "house" in a new way, as it will be more accessible and personal because it's an environmental layout. Those who feel the encounter is too personal may be pushed to the limit by this. Then again, what if this radical personality brings us closer together?
Impact on Mental Health
Mental well-being will be adversely affected
Mental health could be affected in both positive and negative ways by the fact that we are living in two worlds: one that we have developed to our precise specifications and another that responds to our wants and needs much more slowly.
How will metaverse Affect the Future in the Long Run
This new technology, like any new technology, will require us to be cautious not to detach ourselves from our real-life so much that it's tricky to access both at once. Meeting up with my boss as a Klingon may sound like fun, but it may also be bothersome or even offensive to some people. We will inevitably need some societal regulation as we learn how to keep work and play separately.
Now is the right time for us to know how will metaverse affect the future in order to get ready for a change. Certain occupations may be rendered obsolete by the Metaverse: Almost all new technologies have the potential to generate additional revenue.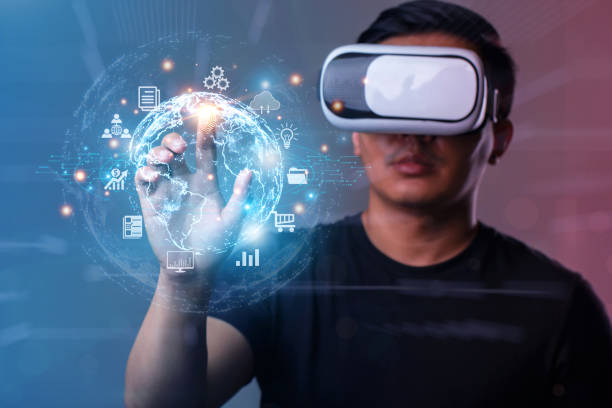 The Way Forward
Metaverse also provides users with a continuous stream of crypto that can serve as a source of cash flow. Play-to-earn games, Virtual world jobs, XR investment opportunities, and XR services are all included in this category. Certain traditional jobs may be rendered obsolete if they can no longer be performed without a computer and an internet connection.
The Metaverse's economy has the potential to grow to be as significant as the world's: There has been an explosion in involvement in cryptocurrencies and related investment opportunities over the last three years. The fact that a single entity cannot deceive the value of a cryptocurrency shows that the market is truly free.
People can participate in the economy of metaverse platforms, which are built on crypto equity and blockchain-based majority view using decentralized autonomous organizations (DAOs).
Is there any Need Left for the Real World?
It could be several years before the Metaverse truly extends a billion people, despite this huge potential. A small percentage of people will still be using the Metaverse, and it will not be able to completely replace any aspects of the current world unless there is increased acceptance.
But in the coming years, we could see the new tech will become extremely relevant to specific user groups, and in some cases, even replace the real-world counterparts in those societies.