Even in the highly competitive web hosting sector, InMotion remains a major player. Since its inception in 2001, it has aided developers like you in creating and managing successful websites.
They brag about offering a 90-day money-back guarantee and having the most website transfers of any company in the business. But does it live up to the acclaim, or is it flashy marketing? Here, in the review, you'll get the facts.
Just so we're on the same page, here are the broad advantages and disadvantages of using InMotion to host your website before we go into the specifics:
| | |
| --- | --- |
| Advantages | Disadvantages |
| With a 99.9% uptime, your site is always available. | Monthly payments are an uncommon feature among plans. |
| It contains BoldGrid, a high-end website generator. | It doesn't have any Windows servers. |
| Offers free domains with almost every package | Cost-effective but not the lowest option available |
| SSL certificates, site migrations, and add-ons are all provided at no cost. | An overly complex administrative user interface is intimidating to newcomers. |
| Assistance in the United States, available around the clock | |
| Guaranteed refund within 90 days | |
| Creating a website has never been easier with our intuitive program. | |
| Storage on SSD Drives | |
So that you know what to expect, let's look at how much various hosting plans cost, how fast they load, how reliable they are, and what other options besides InMotion.
InMotion Pricing Plans
The cost of using InMotion to host your website will vary depending on the plan you choose.

The various hosting plans provide variances in the number of websites, storage space, and email accounts. Unlimited bandwidth, a free domain, an easy setup with just a single click, fast SSD storage, and a free SSL certificate are standard across all plans.
InMotion stands out due to its generous 90-day money-back guarantee, which is far longer than the norm in this sector. You may take your time deciding whether the service is right for you.
Remember that although InMotion offers a free domain with almost all of its services, the renewal fee is somewhat high.
Types Of Hosting Offered By InMotion
Plan types are universal across all hosting platforms, and InMotion is no exception. Let's break down each option so you can make an informed decision:
Shared Hosting
As a reminder, shared hosting is an excellent option for you if you don't anticipate a high volume of visitors to your site. Sharing a server with other sites helps keep costs down. Pricing at InMotion begins at $4.99 per month (in the 1 year billing period).
If you commit to a longer term, you'll save money.

There is only one plan (Pro) that may be purchased every month; the others need a one-, two-, or three-year commitment. The Lite plan doesn't include a free domain and has fewer features than the other.
More websites, storage, email addresses, and sophisticated advertising capabilities are added to higher-tier plans. Because Linux underpins our plans, cPanel serves as our control panel. There are no Windows-based server options available from InMotion. HostGator is a great option if you're looking for anything similar.
Moreover, you may move up to three of your sites without paying a dime. After that, any additional website will cost $10 monthly.
VPS Hosting
VPS hosting costs more than shared hosting, but it's worth it since your website will be hosted on a server with fewer other websites, and you'll have access to a certain amount of server resources. VPS hosting is more trustworthy if you can afford the higher price tag.
The billing term here might be 1 month, 6 months, 1 year, 2 years, or 3 years. For a minimum of 6 months, the lowest plan with 2 GB of RAM would set you back $17.99.

Each tier's plan also increases the number of CPU cores, the amount of SSD storage, and the total data transfer rate in addition to the base plan's RAM.
In addition to free website transfers and server setup, all plans include a free cPanel and SSL certificate.
Depending on your needs, you may choose between managed and unmanaged cloud hosting when it comes to VPS hosting. Assuming you're an IT whiz, you may save a lot of money by opting for unmanaged cloud VPS hosting, which starts at only $5 a month. In addition, with unmanaged cloud VPS hosting, you may choose the operating system you like.
Dedicated Servers Hosting
Dedicated hosting is the way to go if you don't want to share your server's resources with anybody else. It's more costly but also significantly more dependable, which is particularly important if you anticipate a high volume of website visitors. This is particularly important if you want to avoid any website outage that may lose you a sale.
The InMotion Dedicated Hosting plan provides four billing cycles: monthly, quarterly, semiannually, and annually. The lowest annual price plan begins at $139.99/month.

Both fully managed and unmanaged dedicated servers are available from InMotion, much as their virtual private servers. Unmanaged plans start at $99.99/month and provide you full control over the server's operating system, making them ideal for experienced users and programmers.
WordPress Hosting
InMotion provides excellent plans for WordPress hosting. Although Bluehost is recommended as the best web hosting platform, InMotion is well-liked for its support of WordPress. If you pay for a full year at once, the lowest plan is only $6.99 per month.

The primary distinctions between the various packages are those that pertain to the quantity of websites and the quantity of data storage available. InMotion's WordPress hosting is powered by Linux and has a CMS installation.
Using InMotion to host your WordPress site has additional advantages: You will get improved caching, unlimited email storage and transfer, and automatic updates for all third-party plugins. In addition, there are tailored server setups that perform better with WordPress sites.
When you choose InMotion's managed WordPress hosting, you won't have to worry about anything, even security or software upgrades. If you run a large business or have a very busy website, I strongly advise you to switch to their Managed WordPress hosting. Except than that, I have no complaints with their WordPress VPS hosting.
Reseller Hosting
Do you want to enter the field of web hosting on your own? Consider InMotion's Reseller hosting option. There is no need for you to provide bandwidth or set up your own servers. A yearly subscription to the most affordable plan costs only $21.39 each month.

All of them come with one free dedicated IP address; the main variations are in the amounts of storage space and bandwidth available as well as the number of cPanel accounts. There is a layered security system and WHMCS is incorporated for your convenience. To further personalize your domain, you may even deploy your own nameservers.
Performance, Uptime, And Security Features
On its website, InMotion promises a 99.99% uptime and 24x7x365 security monitoring. A website built by InMotion will be sturdy and dependable.
With InMotion, you can be certain that your site's performance will always be at its best thanks to the platform's many helpful tools for managing it. The solid-state drive technology provides a significant improvement in both speed and dependability (unlike the commonly used HDD).
InMotion additionally employs PHP7, which is widely acknowledged to significantly quicken WordPress sites. Additionally, the custom server caching lengthens the waiting time.
InMotion guarantees the safety of your data and provides regular backups. Automatic backups are included in many of the more expensive subscriptions, and if that isn't enough, you can always use additional security and backup plugins.
No matter the hosting type you choose with, practically all of the plans come with a free SSL certificate. To take things even farther, for a nominal monthly cost, you may subscribe to Spam Experts.
InMotion Customer Support
If you have any questions regarding InMotion, you may have them addressed in one of five ways:
Questions and Answers
Database of Information
Telephonic customer service
Contacting client service through email
Provide instantaneous help through chat
The Community Forum is a good resource if you're new to web hosting and utilizing InMotion. For new users, the Support Center is likewise well-structured and comprehensive. Quick and easy use also characterize the chat service. The group is well-informed, helpful, and quick to react. Within two hours, I had a reply to my inquiry. After hearing about WordPress VPS hosting, I wanted to know how it was different from regular VPS hosting.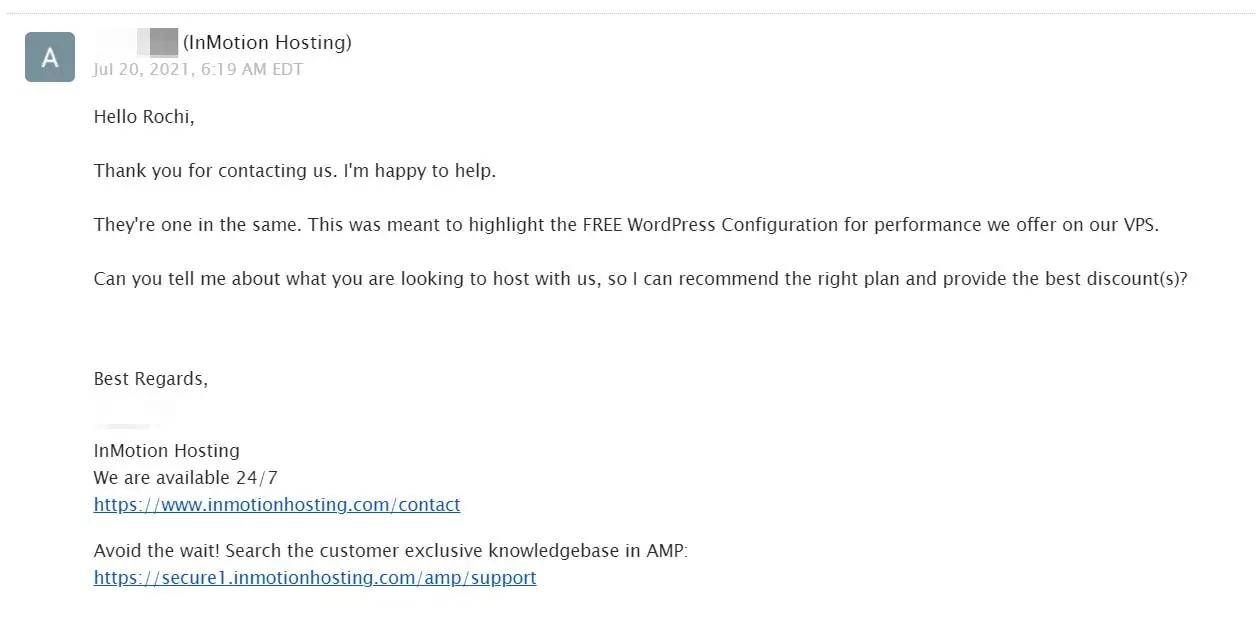 InMotion is well-liked by customers because of the generally helpful service it provides. The answer section is generally clear and simple to comprehend, however some reviews have noted that it is difficult to reach someone to chat or pick up the phone (particularly for non-US clients).
Other Features & Add-ons At InMotion
InMotion has a few unique selling points that set it apart from its rivals. Most importantly, they are as follows:
90-day money-back guarantee
The 90-day money-back guarantee that InMotion provides distinguishes it from its rivals and makes it a more desirable option. This period is far longer than average, giving you enough opportunity to assess the program.
Free Site Transfers, Website Builders, And eCommerce
If you have your site hosted with InMotion, the migration is easy and free. They also guarantee there will be no interruptions in service. When you don't feel like delving headfirst into the complexities of site transfer, this is a fantastic option. Simple eCommerce plugins like WooCommerce make it easy to create a website. This is a fantastic option if you'd rather not set up your own WordPress site.
BoldGrid: The Premium Site Builder
InMotion uses the excellent website builder BoldGrid. Because it is based on WordPress, you have access to all of WordPress's advanced capabilities without having to deal with all of the complexities. The drag-and-drop editor included in BoldGrid's UI makes creating custom layouts a breeze.
InMotion Alternatives
It's in your best interest to compare various web hosting systems, since this is a competitive industry with many options. See how InMotion compares to the industry leaders below.
InMotion vs Bluehost
To begin, Bluehost's basic plans might be less expensive. SSL and SSD options are available from both. However, InMotion provides some added benefits, such as free site migration and a money-back guarantee that lasts for 90 days. If you're running a WordPress site, Bluehost might be a better fit for you. In my Bluehost Review, I explain why you should utilize Bluehost in further depth.
InMotion vs WP Engine
It's hard to find a better content management system than WP Engine. It's a little pricey, but it's well worth it for all the benefits you get. The WP Engine cPanel is easier to use and more visually pleasant for newbies than InMotion's. You can learn more about what WP Engine has to offer in our in-depth review.
InMotion vs HostGator
If you have a tiny, straightforward site, HostGator is a better option than InMotion. It's cheaper and has fewer features, but it's also more limited. HostGator is superior than InMotion, particularly if you choose to go with a shared web hosting package. Unlike InMotion, it gives you the option of using Windows-based servers and provides limitless email and storage space.
Final Thoughts
When it comes to web hosting, InMotion is hard to beat. However, it's not the top choice available. Cheaper and more feature-rich options are available. InMotion's unlimited email accounts, bandwidth, and seamless site migrations are just a few of the features that set it apart from other web hosting providers.
If you're interested in giving InMotion a try, you can do so risk-free thanks to their 90-day money-back guarantee.