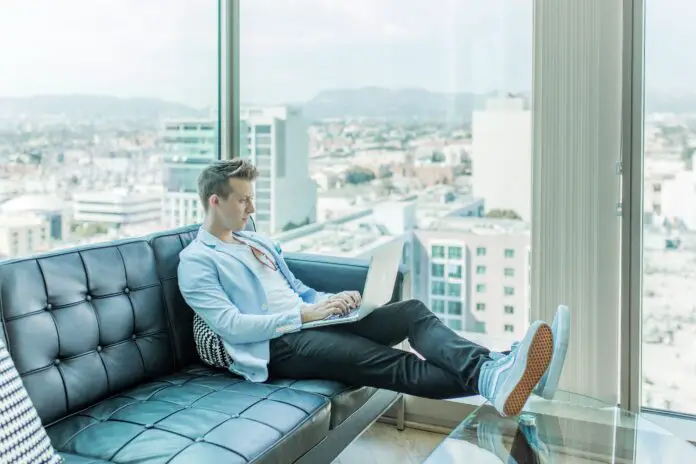 Create profiles on the best freelancing websites to expedite your job hunt.
This article is about top 16 best freelance websites to find work in 2022. To maximize your efficiency, join freelance design job sites and use them to your advantage. Finding new possibilities is as easy as browsing one of the numerous freelancer-focused job forums.
Upwork
No matter what kind of freelancer you are, Upwork has the potential to be one of the top platforms where you can find employment. Upwork is an excellent platform for anyone seeking employment in web design, graphic design, customer service, and even freelance writing. Jobs are constantly being added to the endless stream. Many organizations, ranging in size from startups to multinational conglomerates, regularly post job openings for freelancers like designers and writers.
Starting on Upwork (previously Elance-oDesk) requires some time and effort due to the platform's learning curve. To increase your feedback rating, you may need to bid below your pay rate; therefore, practicing the art of proposal writing is essential. Many freelance jobs are offered on Upwork, but many people are looking for those opportunities, too. If there are already 30 bids for a project, submitting one is not worth your time unless you're an Upwork superstar.
Nonetheless, some independent designers consistently succeed on Upwork and get high-paying gig after gig. Once you've made a name for yourself on Upwork, you can expect to see a significant return on investment.
Designhill
If you're seeking freelance designers, Designhill provides a few options for businesses. Organizing a project contest is an excellent way for businesses to uncover talented freelancers and choose from several design options. Alternately, users may look for freelancers by typing a service into a search bar at the top of the homepage.
Disagreement often arises in the wake of design competitions. We share your pain if you're one of the many who complain about freelance websites that use crowdsourcing to complete projects. Designhill demonstrates that not all design competitions are fraudulent schemes for securing new customers.
If you're a designer of any stripe, from graphic designers to web designers to those interested in other fields of design, you'll find much to love on Designhill. Designhill goes over and above to woo artists by letting them make, print, and sell their custom T-shirts. This is a great touch, providing another outlet for independent designers to promote and monetize their creations.
Toptal
In their advertising, Toptal claims to only work with the top 3 percent of freelancers. Despite receiving hundreds of applications each month, they only accept a small fraction of them due to their stringent screening procedure. That exclusivity separates them from the swarm of competing freelance employment boards. Toptal is a freelance marketplace where organizations post job openings for designers, developers, financial experts, and product managers. It's hard to get in, but if you do, you'll get to showcase your work to some significant players.
LinkedIn and LinkedIn ProFinder
You need a LinkedIn page if you want to go forward in any sector, particularly if you're an artist or creative. Maintaining an up-to-date profile facilitates networking and communication using the site's built-in messaging feature.
It's more than a CV since you can showcase your previous work in each position. In addition, by making your expertise discoverable using the site's search function, you might attract the attention of potential clients who need a designer with precisely your skill set.
LinkedIn ProFinder is another helpful tool the company has released to assist companies in their search for freelancers with the necessary skills. A prospective employer may narrow their search by selecting the desired skill set, such as "content marketing," "design," "data entry," and more. Project leads are sent to you via LinkedIn ProFinder, where you can submit a bid after writing a proposal. The service is like having a personal recruiter who is constantly looking for you.
And LinkedIn job posts make it one of the most trustworthy sites for online employment, whether you're searching for full-time freelancing work, a part-time career, or a remote position. LinkedIn consistently provides its users with the features and functionality they want to maintain its status as one of the most critical employment sites.
We Work Remotely
We Work Remotely claims to have three million unique users per month. This is a significant development. They include various available positions in fields as diverse as coding, design, sales, marketing, and customer service. We Work Remotely is a popular platform for finding freelance and permanent work-from-home opportunities.
A set fee of $299 is required to list on We Work Remotely, which serves as a filter to exclude many unqualified work opportunities. Companies like Google, Amazon, and InVision have posted on the site, so you know it's legitimate. Better still, you can click on a job link and be sent there without making an account.
We Work Remotely is a great place to find freelance work online, whether seeking a few hours a week or full-time employment.
Behance
The freelance creative community may benefit significantly from using Behance. There's much inspiring stuff there, such as animations, site designs, mobile app prototypes, and graphics.
By populating your Behance profile with examples of your best work, you may get exposure to a broad audience of people interested in art and design. Even more, attention will be paid to your effort if it is selected as a highlighted project. Potential employers may stumble onto it and contact you as a result. Behance is a social network for designers, too. Adding more people to your contact list might help you get exciting new design gigs.
Behance features a job area where you may find several opportunities for freelance employment. Although the number of available positions is limited, those listed are commensurate with Behance's stellar reputation.
SimplyHired
SimplyHired is more than just a freelance job board; it offers many valuable features that may help you launch a successful freelancing career. A variety of helpful resources, including guidance on resume and cover letter writing, are provided. If your current resume needs updating, you may use SimplyHired's free online resume builder to do it.
Since the site is free to use for both job seekers and hiring organizations, it has the potential to generate a large number of new employment prospects. Additionally, SimplyHired makes it simple to submit a résumé and launch a profile, allowing freelancers to showcase their skills to prospective employers.
Their job search features are beneficial since you may choose your criteria for finding a job. Sites that provide tangentially relevant results are less valuable than those that allow you to narrow your search.
Dribbble
For designers of all stripes, the freelancing website Dribbble is a must-have. Create a Dribbble profile if you're seeking freelance design work in any field, from graphic to product design.
Having a well-done Dribbble profile is a fantastic method to promote yourself and demonstrate your skills to prospective employers or customers. People flock to Dribbble because many employers are searching for skilled designers. A terrific bio and a sampling of your finest work are all required.
Dribbble also makes it simple to change your employment availability on the fly. In addition, at the Pro level, you may see a separate job board for freelance designers alone.
Freelancer opportunities and creative inspiration for web developers, graphic designers, and others in related fields may be found on Dribbble.
Fiverr
Fiverr's origins may be traced back to the facilitation of short-term freelancing tasks for $5, but the company has since expanded significantly. You may now choose your entry costs, bundles, and extras. Many astute freelancers advertise their services at reduced rates for smaller jobs to gain new customers. It's similar to offering a discounted sample in the hopes that the customer would wish to hire you for more extensive work.
You can forget about sending out invoices or reminding customers to pay through PayPal since Fiverr handles everything for you. The buyer's payment will be sent into your account after completing the order. Thus, even though some freelancers look down on Fiverr because of its lowly roots, it is a terrific freelancing website for beginners and anybody ready to pay various fees for varied jobs.
PeoplePerHour
PeoplePerHour competes with other freelancing marketplaces by claiming they do a better job of matching customers with experts. PeoplePerHour uses AI to facilitate communication between independent contractors and businesses.
When customers submit a project's specifications, an AI system evaluates the information and finds appropriate freelancers to work on the assignment. Clients may choose from a vetted list of freelancers who have submitted bids at their pricing points.
Clients and contractors save time using PeoplePerHour, making it one of the top freelancing websites. In addition, PeoplePerHour incorporates payments within the system to safeguard both parties from unpleasant payment disputes.
Guru
Guru's music and ideology are genuine in their grassroots vibe. On their freelancing platform, they promote open communication and place a premium on trust to guarantee that everyone's needs are satisfied, regardless of their position. Their job descriptions reflect this same attention to detail by being straightforward about applicants' expectations.
The recruiting process is more straightforward, thanks to Guru's in-built verification system for independent contractors. Various payment options and the ability to make secure payments are built into the site, making sending invoices for your services accessible.
Due to the lack of shady practices on this site, Guru is a reliable resource for finding new freelance design jobs or freelance employment in a variety of other fields.
Freelancer
Freelancer encompasses many freelance professions, from creative ones like graphic and logo design to more business-oriented ones like search engine optimization (SEO) and copywriting. Freelancer is among the top freelancing sites because of its extensive range of specialties. Freelance work in various languages, such as Spanish, French, German, Portuguese, and others, is also readily available.
Jobseekers may narrow their search by selecting specific criteria, such as salary, location, experience level, etc. Furthermore, the average bid and the number of active bidders are shown beside each job posting to ensure transparency. Freelancer is an excellent resource for anyone seeking freelance, flexible, or remote employment opportunities.
AngelList Talent
In some ways, working with a new company is a thrilling experience. As an employee of a startup, you could have more freedom to express your individuality and help build the brand's identity than you would at a larger, more established company. Freelancers may find these startups using the services provided by AngelList Talent.
Suppose you're looking for a job in the startup industry. In that case, AngelList makes it easier to locate promising new companies and simplifies the application process by letting you submit a single form for all of them. Who can predict which little business would eventually become a household name? If you're lucky, you'll get to help create the next great thing.
DesignCrowd
DesignCrowd is an online marketplace that connects freelance designers with companies in need of their services all around the globe. Freelancers may find anything they need in this extensive marketplace, which specializes in providing customers with several possibilities.
Clients may court many designers, enabling them to discover precisely the perfect match. Like many freelancing sites, they provide crowdsourcing to accomplish their task. It's highly recommended that you check out DesignCrowd if this is your passion. You should also be aware that you will be competing with other freelancers for each assignment and that you will not be paid on an hourly basis.
99designs
Another fantastic platform that puts designers in touch with clients all around the globe is 99designs.com. 99Designs is a tremendous resource for freelance designers seeking work on the web. The design genres and sectors you operate in are up to you, although 99designs does need an initial investment from freelancers. The platform and payment costs for 99Designs total $100 per project, and there is also a one-time $100 introductory fee to be matched with customers.
Working Not Working
If you're familiar with Working Not Working magazine, you know that its editors take design and giving individuals the resources they need to advance in their jobs very seriously. That division of their organization is well suited to support this goal.
Some artists who live and work in this area are profiled on the homepage. Reading these biographies, it becomes clear that the creative individuals who frequent this establishment take their work very seriously and possess a wide range of relevant experience and expertise. If you create an account, you'll be joining many satisfied customers.
Working Not Working is an excellent employment board that helps designers get noticed.
Outlook
Getting new jobs may be done in a variety of ways. What are the best freelancing websites, in your opinion, and where else do you look for freelance work? If you have anything to contribute to us and other designers, please do so in the comments.